Massage Therapy
Smiling Dog is proud to offer massage therapy from highly-trained and experienced professionals with appointment booking available at your fingertips. Our treatment room has a nestled, cozy feeling inside, yet it's conveniently located in downtown San Luis Obispo with easy access to free parking. You can relax before or after your appointment at our lovely courtyard cafe. Massage is an effective way to help heal the body, release pain, tension, and holding patterns that limit mobility and happiness in day to day life. Like yoga, quality therapeutic massage is preventative medicine, a practice that renews tissues and helps to restore our body/mind complex to balance and is truly nurturing. Our family of massage therapists is sure to meet your needs and provide the experience you're looking for.

Benefits


Studies of the benefits of massage demonstrate that it is an effective treatment for reducing stress, pain and muscle tension. While more research is needed to confirm the benefits of massage, some studies have found massage may also be helpful for:
Anxiety
Digestive disorders
Fibromyalgia
Headaches
Insomnia related to stress
Myofascial pain syndrome
Paresthesias and nerve pain
Soft tissue strains or injuries
Sports injuries
Temporomandibular joint pain
Book online at www.smilingdogyoga.com or using are Smartphone app today!
(More massage booking policies below...)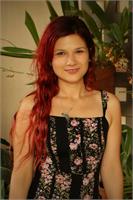 Danyelle is a massage practitioner graduate from the California Holistic Institute. Since finishing the program in 2015 she has continued her education of both eastern and western modalities with an emphasis in Ayurveda. She likes to incorporate these into each of her sessions. She was drawn to this work for the possibility of helping others in a positive and personal way.
Danyelle has a passion for photography and art. She enjoys traveling but often finds herself near the ocean where she can feel rejuvenated and find that quiet space and peace within.
Appointment Guidelines
We require a credit card on file for all massage appointments to hold your time.

For all appointments we request at least 24 hours cancellation notice. Cancellations with less than 24 hours notice will be charged a cancellation fee of $20. If you don't call and don't show up for an appointment you will be charged the full fee. You may cancel in our online schedule, by calling our front desk, or via e-mail.
If you are dealing with a cold or the flu (or anything that might be contagious) we kindly request that you consider re-booking your session to prevent spreading the sickness to our staff. We reserve the right to refuse service to ensure a healthy and safe experience for you and our team.
If you are pregnant, we offer prenatal massage especially for you and our therapist took special training to be able to meet your unique needs. Our standard swedish massage packages cannot be used towards prenatal massage. Please let us know in advance if you have a high or low risk pregnancy. Unfortunately, we cannot offer prenatal massage in the case of a high risk pregnancy.