Smiling Dog Yoga Barre and Fitness
200h Yoga Teacher Training
with Sera Mellini
This foundational, comprehensive program will accelerate your physical practice as well as your understanding of the nuances that make movement and breath mechanics powerful.
Upon completion you will be able to practice movement at home with confidence, make intelligent modifications to your practice in class, and of course, share a wealth of knowledge as a solid teacher of yoga. We are offering full certification options as well as those for deeper study with out the certification.
This training will cover in depth:
Asana (alignment, sequence theory, therapeutics)
Physical and Subtle Anatomy (including ha/tha schematics, vayu mechanics, bandhas, nadis, chakras, koshas)
Art of Sequencing for Change and Development of Physical and Subtle Bodies (therapeutics - physical, emotional and energetic, strength building, weight management)
Art of Adjustments and Body Observation (including applied massage technique and marma therapeutics)
Ayurveda : Indian Science of Medicine (as applied through 5 elements philosophy)
Pranayama (methods, how to see, control, direct Prana)
Yoga Philosophy (Panjanli's Yoga Sutras - 8 Limbs of Yoga, Bhagavad Gita, Sankhya Theory, Purusha Arthas, Hatha Yoga Pradipika)
History of Yoga (including the styles of practice)
Chanting, Sanskrit and Musicality in Practice
Developing Your Voice (teaching from a thoughtful, present, service oriented, organic place)
Business of Yoga
Why this training?:
This training is thoughtful, clear, and inspiring. It is based off 20 years of faithful study and practice.
You will become a whole and individual teacher. Your confidence will come from direct and deep comprehension of the purpose for movement and breath.
Your classes will be appropriately built to serve the students in the room, the time of day and year, and will be inspiring, creative, scientifically supported, and safe.
About Your Teacher:
Sera has been a lifetime student and accomplished teacher of Yoga, Ayurveda, and Thai Body Work. Her knowledge of physical and subtle anatomy is grounded in present experience and every day inquiry. She specializes in bringing the subtle into the clear present and revealing the hidden art in the obvious. She has been teaching trainings internationally for over 5 years and has recently join the San Luis Obispo and Smiling Dog Family to grow her practice and share the gems of the practice.
Sera has been a lifetime student and accomplished teacher of Yoga and Ayurveda. She has been blessed with teachers who have searched classically for the patterns of the Universe and Spirit. Her studies and experiences in the realms of Yoga, Mantra, and Ayurveda all serve to assist in increasing her depth, sensitivity, and simplicity in ways she lives and practices.
Some of her teachers include, Andrey Lapp of Universal Yoga, Kula Yoga Project, Sankalpah College of Yoga (Yoga), Sadhvi Abha Saraswatiji and Raghunath Cappo (Mantra), Vaidya Ravi of Poonthottam Ayurvedasram, the California College of Ayurveda, Dr. Claudia Welsh, Dr. Cate Stillman, and BCD (Ayurveda). Her teachers of touch include those of Sunshine School (Chiang Mai, Thailand) and Ohm (Omsala Chiang Mai, Thailand) for the wisdom of Thai Massage and Chi Nei Tsang.
Each of her teachers has forever moved her to teach from a heartfelt space of humble knowledge, respect, and intuition - qualities ever present in yoga and its teachings. In classes we will focus on the science behind the relationships between the body, the mind, and their bridges. We are concerned with the flow of prana, how and where it moves and does not move in posture, in nadi, with consciousness. Using the paradigms of Ha-tha Yoga and Ayurveda we will explore our capacity to be both strong and flexible, moving and still, Ha and Tha, and of course, migrating in the direction of steady appreciation and awareness.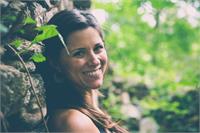 Teacher Training Info Session

with

Sera

Melini
Sat, Nov 17, 2018 at 12:30 pm - 1:30 pm
We are pleased to announce that our 200 hour RYT program will launch on February 9th through May 12 of 2019, led by Sera Melini! Our full Yoga Teacher Training schedule, will be available online soon for your registration. Come join us on November 16, as Sera talks about what to expect, and what is expected in a Yoga Teacher Training, and receive all the info you need for our upcoming YTT!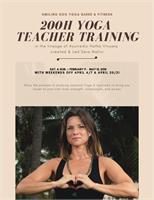 Yoga Teacher Training
A non prescriptive yoga teacher training that will explore and encourage curiosity. There is no memorization of asana, but rather a foundation of knowledge you can build upon and make your own. This kind of learning sets you on a path of becoming a great teacher and will arm you will the tools and knowledge you will need on this journey. It will strengthen your practice. It recognizes yoga as disruptive and will challenge you to think outside the box. We will cover: Asana, Prayama, Vaya Mechanics, Sequencing, Adjustments, Ayurveda, Philosophy, Mantra, Meditation, Business of Yoga.
Please call the front desk (805) 546-9100
if you would like to register for a multiple weekends or a single week of our YTT sessions.